Photo Contest and Sweepstakes: Gosling's Rum – Selfie Yourself to Bermuda
Contest Factory
July 6, 2015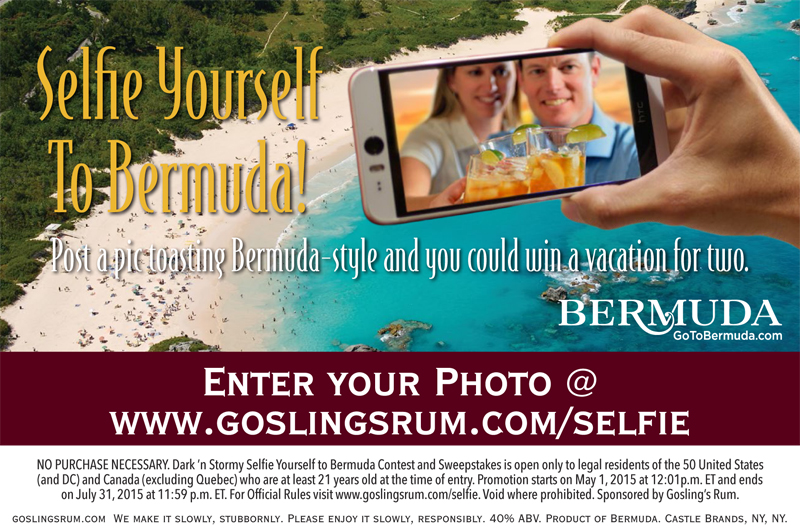 Contest and Sweepstakes by Goslings Rum
Gosling's and the Bermuda Tourism Authority [BTA] said they are "collaborating to push the potential for North American consumers to purchase two of Bermuda's greatest exports this summer – tourism and Gosling's Rum."  They knew a photo contest and sweepstakes approach would lead to viral as their clientele has that Joi de Vivre.
"Selfie Yourself to Bermuda," is a multi-platform promotion that encourages customers to submit a picture of themselves "toasting Bermuda-style" for a chance to win a vacation for two to the island.
Gosling-Castle Partners President & CEO Malcolm Gosling said: "This collaboration is a win-win for Gosling's and the Tourism Authority. We're especially excited to incorporate the selfie craze into this promotion which speaks to digitally savvy consumers, especially young adults who make up our next generation of rum drinkers and Bermuda visitors."
Beginning May 1, the partnership includes point-of-sale promotion in 750 U.S. retail stores, social integration, digital marketing and sweepstakes components.
Full story: http://bit.ly/1Cl5Fr9
Live Site: www.goslingsrum.com/selfie